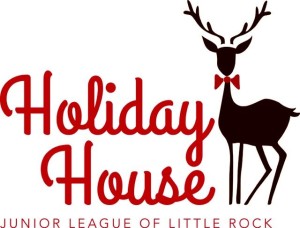 The Holiday House Circle of Patrons, in its third year, is a more formal recognition program for the dedicated patrons of Holiday House . You may become a patron by donating $250 or more. As a member of the Holiday House Circle of Patrons, you will receive:
Recognition in the Arkansas Democrat Gazette insert (approximately 90,000);
Inclusion in the Holiday House 2015 program provided to all shoppers (approximately 18,000);
Recognition on the Junior League of Little Rock website and Facebook page; and
Your choice of two tickets to any Holiday House event (excludes Preview Party VIP tickets).
Your contribution is critical in our ability to continue the mission of the League. Without the support of our patrons and sponsors, we would be unable to create programs like Little Readers Rock which provides age-appropriate books to over 300 children in the Headstart Program and to continue programs like Stuff the Bus, which provides much needed school supplies to local students. With your help, we ARE promoting voluntarism, developing the potential of women, and improving the community through the effective action and leadership of trained volunteers.