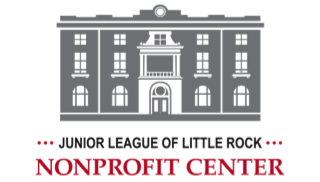 The Junior League of Little Rock Nonprofit Center aims to produce greater community impact by equipping and sustaining nonprofit organizations with the resources and trainings needed to create positive social change and build stronger communities in Arkansas. The JLLR Nonprofit Center is housed on the third floor of the JLLR Building, a 3,158 square foot space that includes a conference room, resource center, kitchen and bathroom facilities, and a reception area.
The Nonprofit Center serves as a shared workspace for a diverse group of nonprofit organizations serving Arkansas communities, helping organizations significantly improve their effectiveness and efficiency through cost savings, an improved office environment, higher visibility in the community, and increased collaboration with other resident organizations. These benefits strengthen core business practices, grow capacity by taking advantage of workforce trainings, and expand services to the community.
The Nonprofit Center provides a desirable downtown location with seven office spaces offered at a below-market rate.  The space provides shared services such as internet, office equipment, and utilities. In addition to providing professional office and meeting space, the Nonprofit Center provides a Resource Center containing resources to foster organizational growth and capacity while enhancing the missions of resident nonprofit organizations.
COST AND SPACE AVAILABILITY
Seven office spaces will be available ranging in size and number of desks.  There are four offices available with two desks, two offices available with three desks, and one office available with one desk.  The cost of office space is determined per square footage at the time of a signed lease agreement. For more information, contact the JLLR by phone at (501) 375-5557 or email at nonprofitcenter@jllr.org.
TENANT APPLICATION AND SELECTION PROCESS
Interested nonprofit organizations must complete an application and meet the following criteria:
1) Provide proof of 501(c)(3) status
2) Provide Mission or Vision Statement
3) Provide copy of strategic plan
4) Provide copy of internal controls
5) Provide operational budget
6) Provide copy of governance structure
7) Provide employee credentials
To receive an application packet or for any questions, please click here.