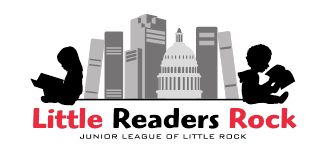 Little Readers Rock is focused on promoting high levels of literacy for young children up to third grade by improving their reading skills. Our committee is designed to create excitement in young readers and increase the number of Little Rock students that become competent, grade-level readers by the end of third grade.
According to the Arkansas Campaign for Grade-Level Reading, "third grade marks the point where children shift from 'learning to read' to 'reading to learn.'" Students who fail to read proficiently by the end of third grade can fall behind and may have trouble comprehending more complicated reading material in academic subjects, such as history, English, and even word problems in math.
In 2017-2018, Little Readers Rock supplied more than 5,000 books to students through reading days at seven Little Rock School District schools, our partnership with the Arkansas Literary Festival, and other book giveaways to community organizations.
Studies have shown that Arkansas students who fail to achieve this critical milestone are more likely to drop out of high school before earning a diploma. In order to guarantee student success, we must ensure that every student in the central Arkansas area is a proficient reader by the end of third grade.