For over 100 years, the Junior League of Little Rock has worked to improve our community through providing volunteers, funding, and leadership support. These efforts, concentrated within the following areas of impact, give direction to our organization:
Nutrition and Wellness
School Preparedness
In 2023, JLLR updated our three year strategic plan to further align with our mission: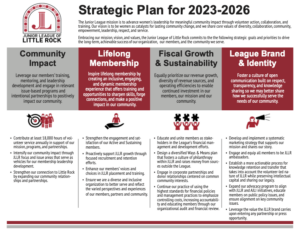 Community Impact – Leverage our members' training, mentoring, and leadership development and engage in relevant issue-based programs and intentional partnerships to positively impact our community.
Lifelong Membership – Inspire lifelong membership by creating an inclusive, engaging, and dynamic membership experience that offers training and opportunities to sharpen skills, forge connections, and make a positive impact in our community.
League Growth & Sustainability – Equally prioritize our revenue growth, diversity of revenue sources, and operating efficiencies to enable continued investment in our members, our mission and our community.
League Brand & Identity – Foster a culture of open communication built on respect, transparency, and knowledge sharing so we may better share how we successfully serve the needs of our community.