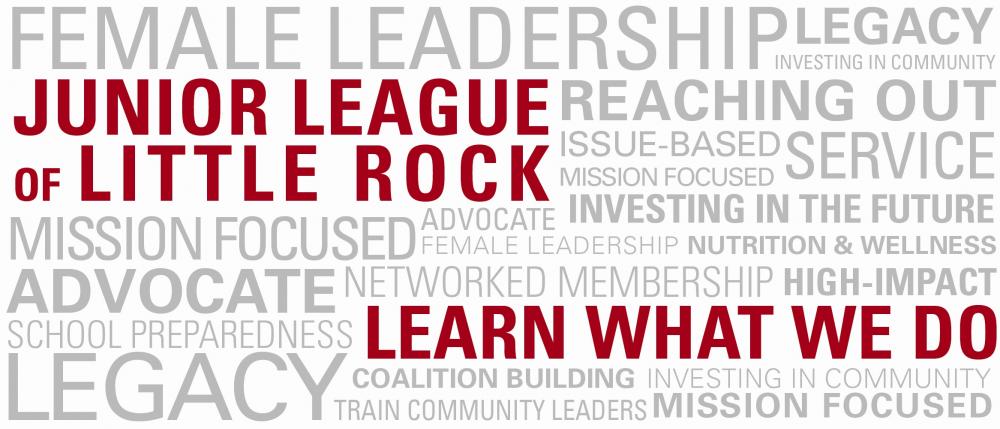 What do we do?
We build better communities and develop trained volunteers.
The Junior League of Little Rock has been the driving force behind the kinds of initiatives and institutions that make our community a healthier, more vital place to live.The Junior League of Little Rock members, reflecting a wide range of backgrounds, interests, and professional pursuits work together to identify unmet needs, forge effective coalitions, and work for change. Time and time again, the League is among the first organizations to step up to the plate and tackle a community's biggest challenges.
Did you know JLLR played a part in the formation of…?
The Arkansas Arts Center
Riverfest
Potluck
Museum of Discovery
Gaines House
Volunteers in Public Schools (VIPS)
Senior Citizens Active Today (SCAT)
The Parents Center
Seven on Your Side
And many, many more important services to our great city!
Over the years, the League has raised funds through follies, cookbooks, thrift shops and sales, race brunches, holiday markets and our membership dues.
The Junior League of Little Rock was organized in 1914 as an auxiliary to the United Charities, forerunner to the present United Way. The group separated from United Charities in 1921 in order to establish its own projects, and in 1922 affiliated with the Association of Junior Leagues. In 1929, the Junior League of Little Rock was incorporated.
The League's first project was the Baby Welfare Station, headquartered at the Arsenal in McArthur Park. The center provided medical examinations for infants and pre-school children as well as instruction in health care for mothers. In keeping with League philosophy, the project was turned over to the City of Little Rock in 1937.
Today, the Junior League claims over 1000 members and continually seeks to improve the Little Rock community for all women and children. Please click here to learn more about our current community involvement.