Families and Community Together (FACT)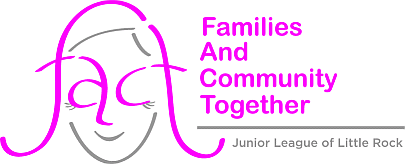 FACT — Families and Community Together — is the Junior League's newest community project. Beginning in June 2008, mentors from the Junior League of Little Rock serve as positive role models to the pregnant and parenting female teens of the Young Moms/Healthy Families program at the Centers for Youth and Families' Parent Center. These teens face the challenge of adolescence as well as motherhood.
The focus of this partnership is to encourage the participants to stay in school, delay future pregnancies, and teach positive parenting skills. Our members will interact with these young parents, helping them with a variety of issues we've experienced in our own lives, such as parenting, employment and education. Group and one-on-one activities that will benefit these participants will be held monthly at the Parent Center, which does not currently have a volunteer mentor program. The FACT program remains true to one of the League's areas of impact: the support and education of women in the community.