April Member of the Month – Stephanie Fraze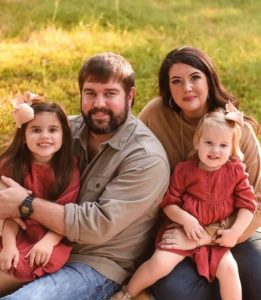 Get to know Stephanie Fraze, our April Member of the Month!
What is your favorite Little Rock restaurant or place to shop? 
Sushi Café is still my go to place when we eat out in LR.
What is one thing JLLR members might not know about you? 
I love to go fishing with my dad and brother. On my first offshore trip with them I caught a shark.
Where is your favorite place to visit and why? 
My favorite vacation spot is the beach in Florida with my family. I love to offshore fish with my husband, dad, and brother and relax on the beach with my mom and Godmother who always makes the trip from Colorado. My two daughters are also water babies and love the ocean and playing in the sand.
What's your favorite television show from the 90s? 
I feel like I watched quite a bit of TV then and all the shows were great, but one that sticks out in my memory is Are You Afraid of the Dark. I remember watching this on my parents bedroom TV while my mom was cooking steak on Friday or Saturday nights. Bill Nye the Science Guy was another favorite.
What's your favorite song of the 2000's?
I have never been able to narrow down a favorite song. I have always loved all genres of music, but I feel like I can't go wrong saying any and every Dave Matthews Band song.
What is your favorite holiday and why? 
Now that I have children, I would say that the magic of Christmas tops all holidays for me now. Elliott Grace is 5 and Evelyn is 2 and seeing it through their eyes is almost indescribable.
Who was your high school celebrity crush? 
There were a few, but Devon Sawa was probably top of the list.
Who is your role model and why?
My mom has always been a role model for me. she is one of the most selfless, hardworking, loving person I know.