September Member of the Month – Suma Ashok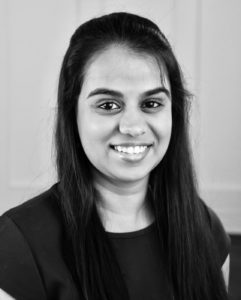 Get to know Suma Ashok, our September Member of the Month!
What is your favorite restaurant or place to shop?
Maddie's Place or Heights Taco & Tamale
What is one thing JLLR members might not know about you?
I can speak German! Sort of!
Where is your favorite place to visit and why?
I have not done much traveling thus far, but I do have a long list of places I want to visit – Santorini, Rio de Janeiro, Sicily, Naples, Seville, and so on!
What's your favorite television show from the 90's?
FRIENDS
What's your favorite song of the 2000's?
Oooph! Do I have to pick? Back to Black by Amy Winehouse, Use Somebody by Kings of Leon, Crazy in Love by Beyoncé, Lose Yourself by Eminem.
Food Network or HGTV?
Food Network
Who was your high school celebrity crush?
Jake Gyllenhal forever!
Who is your role model and why?
I work alongside some spectacular women in the League. I admire and aspire to be as good as them someday. If I absolutely had to pick, then it would be my grandmother (for her endless energy and passion to do the things that she loves).
What's your spirit animal and why?
Beaver! I have clear goals and I make a plan and act on it to achieve them. I also love coming up with creative solutions and working with teams. On the other side, I'm a workaholic, can't swim, and I hate cinnamon (and/or tree bark)!