SEPTEMBER MEMBER OF THE MONTH – JEN HOSS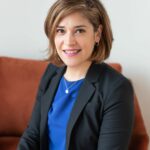 Our September Member of the Month is Jen Hoss!
Our September Member of the Month Jennifer Hoss has gone over and beyond as Chair of Nightingale.  Her willingness to step into her new role without hesitation, without serving as Chair-Elect reflects how great she is.  She jumped into this role with full throttle and worked throughout the summer to connect with our partners at Arkansas Children's to get our Bingo program up and running as it was pre-pandemic. Jen has met with the Executive Director of Home For Healing to brainstorm ideas for engaging activities to provide their guests beyond the snack deliveries we already do. Jen's clear communication with her committee and council along with her commitment to Nightingales is an invaluable asset to the Junior League of Little Rock and the organizations we serve. We are so grateful for her service.  Congratulations to our September Member of the Month, Jen Hoss!