November Member of the Month – Rebecca Duty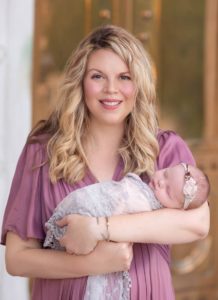 Get to know Rebecca Duty, our November Member of the Month!
What is your favorite restaurant or place to shop?
Dillard's to shop and At The Corner to eat.
What is one thing JLLR members might not know about you?
I have an intracranial account @rebecca_well_read where I review books. I get quite a few from publishers before they are released.
Where is your favorite place to visit and why?
Scottsdale because it's home.
What's your favorite television show from the 90's?
Friends.
What's your favorite song of the 2000's?
At the time probably Oops I Did It Again.
Food Network or HGTV?
Food Network no contest.
Who was your high school celebrity crush?
Justin Timberlake.
Who is your role model and why?
Probably my Mom. When she had thyroid cancer she raised two young kids and was working two jobs. My dad was too and so really they showed me what it means to work hard.
What's your spirit animal and why?
This question is fairly offensive to our Native American friends where this is a part of their cultural beliefs. I would challenge everyone to remove this terminology from their day to day.