MEMBER OF THE MONTH – APRIL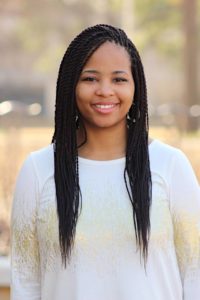 Our April Member of the Month is Kiara Swift!
As one of many Chairs whose placement has been altered to accommodate a community partner's current guidelines, Kiara has adjusted Nightingales to positively serve recipients of the work done by this committee. The service Kiara has done and led her committee to do provides comfort and support at a time when families are experiencing strain while managing the needs of their children being treated at Arkansas Children's Hospital and The Home for Healing.
Q & A with Kiara
When did you get involved with JL/How many years have you been an active member? I became involved in JL in 2019. This is my third active year. 
What is your favorite memory from your time in the League? My favorite memory is my new member project at Penick Boys & Girls Club. It was such an amazing experience to dream and execute our plan. We worked hard, and the final result was amazing. 
What are you looking forward to or What excites you about this Centennial year? The League has made a huge impact over the years. I am excited to learn more about the past, and celebrate the future. 
What do you feel like the League has helped you accomplish either within the League or personal/professional life? The League has helped me grow out of my comfort zone. Whitney Hall was my small group leader and she encouraged me to do things that I normally would not have done. That lead to me accepting the position as Chair of Nightingales this past year. From 2019 to the present I can definitely see my growth.