May Member of the Month – Meagan Davis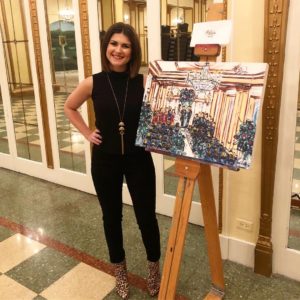 Get to know Meagan Davis, our May Member of the Month!
What is your League placement and what is your favorite aspect of it?
I am starting my second year serving as Cookbook Chair.  Cookbooks are such a big part of JLLR's history.  I've learned so much from previous generations of League members; the amount of work that went into these cookbooks and the prestigious awards they have won is incredible.  I love that through my placement I get to share the rich history of JLLR cookbooks with membership and our community!
What is your profession and how do you balance it with your League duties?
By day, I'm an attorney for Pulaski County.  On the side, I'm an artist.  I own and operate Davisdrew, LLC, specializing in custom art and live event painting.  In my spare time, I'm also working on my MBA.  My life is a little hectic, but JLLR is always willing to accommodate my crazy schedule and the members of JLLR offer consistent encouragement and support.  Plus, JLLR offers a variety of great training opportunities that have assisted with the growth of my professional career.
What other organizations are you involved in?
I'm involved in a variety of legal organizations.  I am starting my second year as Chair of the William H. Bowen School of Law Young Alumni Board.  I'm a member of the Arkansas Bar Association and serve on their Professional Committee, Legal Education Committee, and Mock Trial Subcommittee.  I am also a member of the Pulaski County Bar Association.
Outside of the legal field, I'm a member of a few different young professional groups including SHARP (Arkansas Symphony Orchestra), the Contemporaries (Arkansas Art Center), and the 601 Club (Arkansas Repertory Theater).
In addition, I also volunteer for a lot of different local organizations by offering live event painting services at their fundraising events, including Women & Children First, Arkansas Food Bank, CASA, City Year, North Little Rock Friends of Animals, United Cerebral Palsy of Arkansas, Arkansas Association of Women Lawyers, and Museum of Discovery.
I'm also a member of Pulaski Heights United Methodist Church and am helping Chair their upcoming Mac N Cheez Festival, which is a fun new food festival where all the proceeds will go to help the homeless in our community.
What are some of your hobbies?
I enjoy painting, cooking, reading, and all things outdoors.  I also love spending time with my dogs, Gus and Percy, my fiancé Jack, and friends and family.
What is your favorite restaurant?
South on Main!
Where is your favorite place to shop in Little Rock?
For work clothes, White House Black Market.  For fun clothes, Steamroller Blues.
What is your favorite movie or TV show? 
I watch Friends, Parks & Rec, and Cheers reruns on repeat (and probably always will).  But, my favorite current TV show is Barry.
What is your favorite thing about Junior League of Little Rock? 
While JLLR does many incredible things in the community, all of which I'm proud to be a part of, my favorite thing about JLLR has been meeting so many amazing women.  JLLR has members in a vast variety of career fields (i.e. my closest friends from new member year range from FBI agent, to buyer at Dillard's, to owning an organizing business), many of whom are juggling motherhood and/or side jobs.  It's really been incredible to get to know so many successful, intelligent women who are motivated to make a difference in their community.