March Member of the Month – Emily Powell Carpenter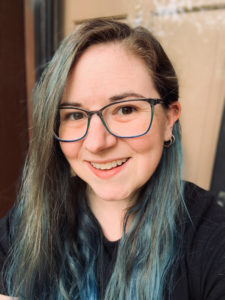 Get to know Emily Powell Carpenter, our March Member of the Month!
What is your favorite Little Rock restaurant or place to shop? 
My favorite local LR restaurant is currently Aji Ramen Bar. Local shops are probably tied between Bella Vita Jewelry, The Green Corner Store, and Wordsworth Books.
What is one thing JLLR members might not know about you? 
I played percussion in concert bands all through school. In high school I did colorguard with the marching band and in college I marched cymbals on the drumline. I was also a member of Tau Beta Sigma, the national honorary band sorority.
Where is your favorite place to visit and why? 
I think you could say any city or state park is my favorite place to visit. I love being outside and I love to run and ride bikes. River Mountain Park is nearby my house and I go there all the time.
What's your favorite television show from the 90s? 
The X-Files – I want to believe!
What's your favorite song of the 2000's?
Wow, what a rabbit hole I went down looking back at music from the 2000s! This decade got me from junior high through college, so definitely a nostalgic era. Let's go with 'American Idiot' by Green Day.
What is your favorite holiday and why? 
My favorite holiday is probably Yule because it celebrates the return of the light half of the year. After the winter solstice, every day is longer than the one before for the next six months. It's also my wedding anniversary.
What animal, book/movie character, or music genre best embodies your personality?
I'm a cat.
Who was your high school celebrity crush? 
Joel Madden from Good Charlotte or Travis Barker from Blink-182
Who is your role model and why?
I really look up to one of my colleagues who is constantly learning and working on self-improvement. He is a great leader and supporter of everyone on our team.
If you were hosting a dinner party, who would be your three guests (dead or alive)? 
At this point after COVID, I would take any three real life friends! But for a more imaginary scenario, I would invite Tina Fey, Amy Poehler, and Maya Rudolph.