July Member of the Month – Mary Fair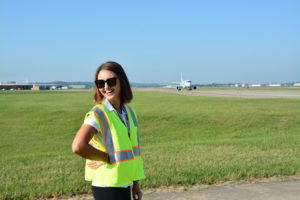 Get to know Mary Fair, our July Member of the Month!
What is your favorite restaurant or place to shop?
While my husband would tell you that I'm a downtown wannabe, my favorite restaurants are in the Heights and Hillcrest areas. I'm a self-proclaimed foodie so it's hard to narrow it down, but my regular favorite is Cheers and guilty pleasure is Canon Grill.
What is one thing JLLR members might not know about you?
I am a Professional Civil Engineer! I work in Aviation for the largest multi-disciplinary consulting firm in the state, Garver. My team serves airports in Arkansas and Louisiana and our clients range from small general aviation airports to larger commercial airports.
Where is your favorite place to visit and why?
30A in Florida! We love it so much that last year my husband and I took a last-minute vacation down there and stayed in a tiny house!
What's your favorite television show from the 90s?
Anything on nick@nite!
What's your favorite song of the 2000's?
Anything by Backstreet Boys or Brittany Spears.
Food Network or HGTV?
HGTV! My husband and I currently own two rental properties, and I love watching the house flips.
Who was your high school celebrity crush?
Ashton Kutcher in That 70's show.
Who is your role model and why?
Right now, I'm loving Michelle Obama. Seriously, who doesn't love her?!
What's your spirit animal and why?
Kangaroo! It's all about balance with between family, happiness, and being aggressive.
What would be the theme song of your life?
My current jam is You Need to Calm Down by Taylor Swift.