February Member of the Month – Lauren Hardy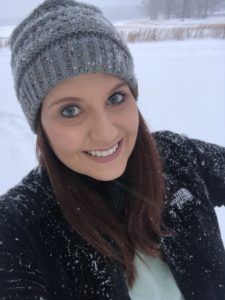 Get to know Lauren Hardy, our February Member of the Month!
What is your favorite Little Rock restaurant or place to shop? 
Favorite restaurant Local Lime, favorite place to shop E. Leigh's
What is one thing JLLR members might not know about you? 
I raced cars in autocross one season and one my class in Arkansas.
Where is your favorite place to visit and why? 
Anywhere, ha. My family jokes my middle name should have been go, because I want to go anywhere and everywhere. I will say I do love a good trip to Disney World-it's even better as an adult!
What's your favorite television show from the 90s? 
Home Improvement
What's your favorite song of the 2000's?
Anything Britney Spears or Matchbox 20
What is your favorite holiday and why? 
I love Christmas, I know it's cliche, but there's something about the lights and decorations and time with friends and family.
What animal, book/movie character, or music genre best embodies your personality?
A cat. I love a good nap.
Who was your high school celebrity crush? 
Ryan Reynolds
Who is your role model and why?
My mom. She has given up so much to make sure I've always had everything I've ever needed and most of what I've wanted. She's always been there-the highs and lows, she's let me learn from my mistakes, and she's wiped my tears. She truly is my best friend and has taught me so much in life.
If you were hosting a dinner party, who would be your three guests (dead or alive)? 
Jackie Kennedy, Queen Elizabeth, and madam Vice President Kamala Harris