April Member of the Month – Ashley Haggard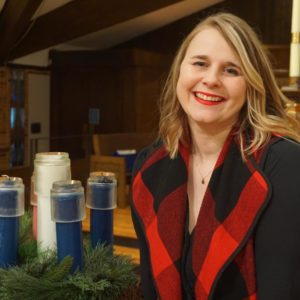 Get to know Ashley Haggard, our April Member of the Month!
What is your favorite Little Rock restaurant or place to shop? 
I love Heights Tacos and Big Orange! And I'm always, always up for a visit to Loblolly!
What is one thing JLLR members might not know about you? 
I graduated from the University of Oklahoma and am a huge college football fan. Boomer Sooner!
Where is your favorite place to visit and why? 
My extended family takes a summer trip to Surfside Beach, outside of Galveston, every summer. What's better than sun, sand and 50 of your favorite people?
What's your favorite television show from the 90s? 
I am a huge FRIENDS fan! I can watch the episodes over and over again, and probably win many a trivia contest on FRIENDS content.
What's your favorite song of the 2000's?
This is a hard choice! Probably the one what wills ALWAYS put my in a good mood instantly is "Put Your Records On" by Corinne Bailey Rae.
What is your favorite holiday and why? 
Halloween! Fall is my favorite season, so with Halloween you get the lovely Fall weather, plus costumes, candy and fun!
What animal, book/movie character, or music genre best embodies your personality?
I've always felt a connection with Piglet. There is a quote from Winnie the Pooh that says "It's hard to be brave when you are a very small animal". Piglet is small and seems quiet, but when it comes to his loved ones, and sticking up for what's right, Piglet always finds the strength to be brave. This is very much my personality as well.
Who was your high school celebrity crush? 
Ryan Gosling. Then, now, forever.
Who is your role model and why?
My mom. She is the strongest person I know. She broke the glass ceiling in the 70s as the first female buyer for Safeway, always puts her family first and is the definition of unconditional love. She has more compassion than anyone I know. If everyone could be a little more like her, the world would be a better place.
If you were hosting a dinner party, who would be your three guests (dead or alive)? 
My dad, who passed away 6 years ago, because I miss him and he made the best meals; Pete Buttigeg, because he is my favorite politician and I think we'd be friends; Princess Diana, because I am fascinated by her and her story.