2019-2020 Sustainer Member of the Year – Kim Evans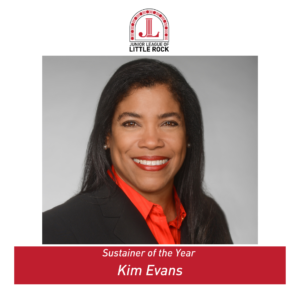 Kim Evans is a native of Little Rock and a graduate of Mount Saint Mary Academy, Georgetown University, and the William H. Bowen School of Law. Kim began her JLLR career in 1994 and served as President from 2003 to 2004. As a Sustainer, she has served on the Sustainer Board and on the Nominating and Strategic Planning Steering Committees of the Association of Junior Leagues International.  
Professionally, Kim works as Senior Director of Corporate and Foundation Relations at the University of Arkansas for Medical Sciences (UAMS). She also serves on the boards of Southern Bancorp Bank, the Carl B. and Florence E. King Foundation and Hendrix College, where she is Vice Chair of the Investment Committee. Some of Kim's past volunteer commitments include serving on the board of the following organizations:  Centers for Youth and Families, e-STEM Public Charter Schools, CareLink, Arkansas Arts Center, Arkansas Repertory Theatre and more.