2019-2020 Kristen Julia Pruss Memorial New Member of the Year – Beatrice Klokpah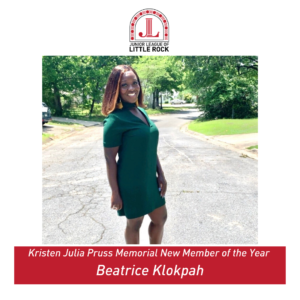 Beatrice Klokpah is a Houston, TX native who relocated to Little Rock in January 2018.  As a social worker and therapist, she has over 14 years of experience in community based work. As a Provisional member of the League, Beatrice has appreciated the opportunity to serve, grow, and experience Little Rock alongside her fellow new members.
As the daughter of a first generation Ghanaian immigrant father and African American mother who both overcame societal pressures, literacy and education are core principles that were instilled in Beatrice from a young age. She is looking forward to serving on Little Readers Rock in 2020 and hopefully, help children build a healthy perspective and foundation of literacy that will increase their chances of a promising adulthood.