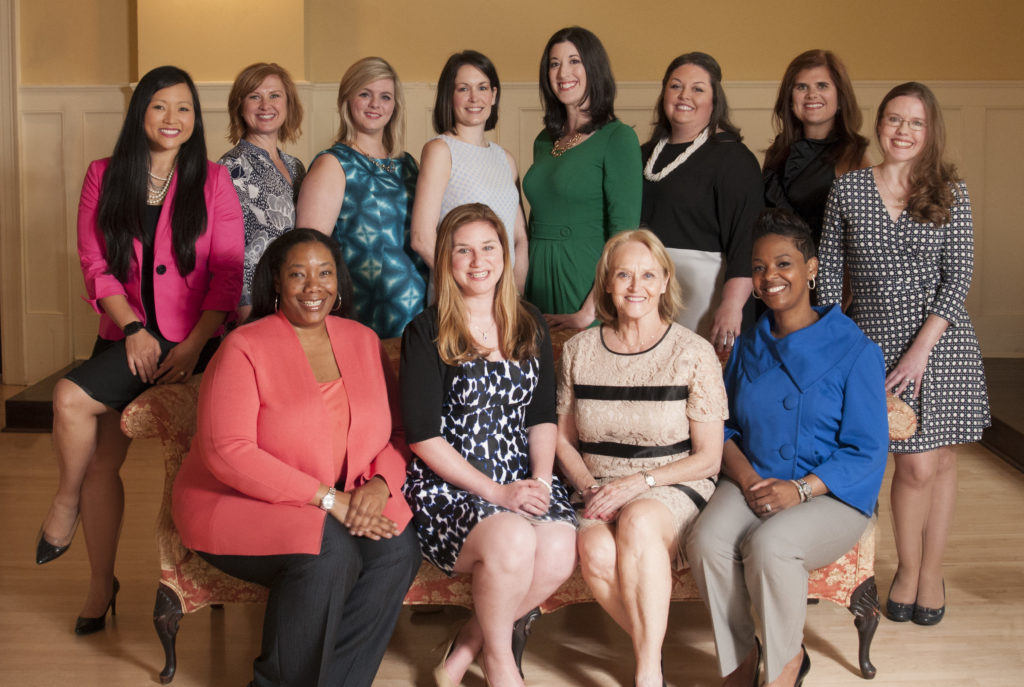 Front row, left to right: Sabrina Lewellen, Amanda M. Richardson, Sherrye McBryde, Benecia Moore. Back row, left to right: Natalie Hairston, Kerri Sernel, Jennifer Goss, Kristen Moyers, Kimbery Logue, Maradyth McKenzie, Tabitha McNulty, Mary McCraw.
---
President
Amanda M. Richardson
Previous Boards:
President-Elect
Sabrina Lewellen
2015-2016
Sustainer Advisor
Sherrye McBryde
2014-2015
Administrative Vice President
Mary McCraw
2013-2014
Community Vice President
Kristen Moyers
Development Vice President
Kerri Sernel
Marketing Vice President
Maradyth McKenzie
Membership Vice President
Tabitha McNulty
Nominating Director
Benecia Moore
Training Director
Kimberly Logue
Treasurer
Jennifer Goss
Treasurer-Elect
Natalie Hairston
---
Amanda M. Richardson

President

My passion for service was inspired by my family and upheld through my work in AmeriCorps programs, as a full-time Corps member and as a Senior Corps member with City Year Little Rock. City Year's mission is to build democracy through citizen service, civic leadership, and social entrepreneurship.

That passion translated well into my commitment to the Junior League of Little Rock in 2007. Over the last eight years, the Junior League of Little Rock has dared me to continue to fight for the world as it should be, to work on projects inside this organization and out in the community that will make a difference for the future of Little Rock. Growing up in Little Rock, I was familiar with projects and programs started by JLLR that had a significant impact on this community. After graduating from Central High School, I went on to attend the University of Arkansas, where I studied Communication and was active in debate and student government.

In my life outside the league, I am the Director of the Delta Leadership Institute where I am responsible for the coordination and implementation of our annual training and certification experience for leaders in the eight-state footprint of the Delta Regional Authority, an independent federal agency whose mission is to help create jobs, build communities, and improve lives across the 252 counties and parishes in the eight states of the Delta region.

The woman who most inspires me to be a daring woman is certainly my mother, Mary Melekian Richardson. She has raised my sisters and I to be both fiercely independent and to always send a thank you note. She is quick-witted, fearless and always looking for fun.

Sabrina Lewellen

President-Elect

My service in the Junior League has been the single most impactful part of helping me transition back into life as an Arkansan. Educationally, I hold a Bachelor of Science in Agriculture/Food Science/Minor – Environmental Science from Florida A&M University and a Doctor of Jurisprudence from Vanderbilt Law School. In my professional life, I serve the State of Arkansas as the Deputy Director and Assistant Secretary of the Arkansas Senate.

My tenure as a Provisional included Bargain Barn, Cookbook, Holiday House, and a project with the Women and Children First Center. As a native of Jonesboro, it was imperative I learn the City of Little Rock and infuse myself into a helpful and contributory capacity. As a past Community and Membership Vice President and Chair of both Nightingales and Advocacy Committees, I have had leadership opportunities charged with addressing the unique needs of some of the most special constituencies we serve. Additionally, I have fulfilled placements on APT, Placement and Nominating Committees. I am extremely grateful to serve as the President-Elect.

My father and mother, a minister and educator respectively, required each of us to be servant leaders driven to invest our best in our life calling and our surrounding community. I am honored the Junior League has granted me the privilege of doing just that with so many gifted and daring women.

Sherrye McBryde

Sustainer Advisor

Sherrye is a graduate of Hendrix College and a CPA. After working in public accounting for two years, she became the controller of Arkansas Children's Hospital as it was going through its first bond issue and expansion in the late 70s. With the birth of her four children, she "retired" but worked in the community. She was a Boy Scout leader, Girl Scout leader, room mom, president of Central High PTA, president of the Junior League of Little Rock and Chair of the 2000 Riverfest. Beginning as a volunteer in 1999, Sherrye worked as Treasurer to the Board of Directors and Race For the Cure for Susan G. Komen. That volunteer job became full time and Sherrye has been the Executive Director of Susan G. Komen since 2001. The Komen Arkansas Race for the Cure is the 2nd largest race in the Komen series. At its largest, it had 46,000 participants.

Mary McCraw

Administrative Vice President

Being new to Little Rock, I joined the Junior League in 2011 to become more involved in the community and meet new friends. I was raised in Texas, but Little Rock is home for my husband. We moved here to raise our girls closer to family. I wasn't sure what to expect from the Junior League at first, but I was quickly impressed by the amazing history of service and the passion of the women in the League. I love this community of women and I am honored to serve alongside them.

Over the past five years I have served in a variety of roles in the League, but I particularly enjoyed my time serving on the Stuff the Bus committee. It was amazing to be a small part of a project that provided school supplies and backpacks to over 3,000 Little Rock children.

Professionally, I work for The Arkansas Financial Group as a Certified Financial Planner. My grandmother is the woman who inspired me to step out of my comfort zone and join the League. She is a daring woman, who has always served others selflessly and continues to inspire me.

Kristen Moyers

Community Vice President

I was raised in Hot Springs, Arkansas, and I attended law school in Little Rock. After graduating, finding a job in Little Rock, and becoming engaged to someone here (my very supportive husband Michael), I realized that Little Rock was going to be my home. So I joined JLLR to learn more about and give back to my community, as well as meet other like-minded women in Little Rock and broaden my social circle. JLLR has helped me do all of those things and much more.

This is my seventh (7th) active year in JLLR. I have enjoyed all of my placements, which have included GROW, DDR, and Interaction, but serving as chair of the Placement Committee is the position that really helped me to learn more about the needs of both the League as a whole and its individual members. I am very excited to serve as Community VP this year, and I hope that my diverse experiences with the League will help me in that role.

Professionally, I am a partner with the law firm of Wright Lindsey & Jennings LLP. I received a B.A., majoring in English, from the University of Central Arkansas, and a J.D. from the University of Arkansas at Little Rock.

I am inspired to be a woman daring greatly on a personal level by my mother, Pam Sluyter, who taught me so much about being and doing it all as a professional woman, wife, and mother—and my daughter, Helen,who is my main reason for working to improve the future of our community. From a professional standpoint, I am inspired by my first boss in the legal field—retired Justice Annabelle Imber Tuck. She was the first woman to be elected to the Arkansas Supreme Court and has always been a tireless and graceful advocate for both the Little Rock and greater Arkansas communities.

Kerri Sernel

Development Vice President

I joined the Junior League of Little Rock in 2009 because I truly believe in the power of female leadership to transform communities. I wanted to work alongside other women who were as motivated as I was to make a meaningful contribution to my adopted city of Little Rock. I jumped in with both feet – and I have grown in ways I never anticipated. I have read financial statements, created and reviewed budgets, negotiated contracts, conducted workshops, maintained facilities, managed all kinds of teams, and I can tell you pretty much anything you'd ever want to know about our building's HVAC system. I didn't learn to do these things in my professional life. I learned them in the League. And in the process, I have made many of my closest friends, women I now consider family.

I was born and raised in Memphis, Tennessee, and moved to Little Rock in 2001. I hold a Bachelor of Arts degree in Psychology from the University of Alabama, and a Masters in Social Work from the University of North Carolina at Chapel Hill. Professionally, I work at Arkansas Advocates for Children and Families as Outreach Director. Outside the League, I have been privileged to volunteer with a number of wonderful organizations, including the Women's Foundation of Arkansas, the Arkansas Repertory Theatre, and the Arkansas Access to Justice Commission. Some of my other interests include yoga, spinning, hiking, kayaking, playing guitar, writing, and cooking. To me, being a "daring woman" is saying yes. It's being curious, staying open, and being willing to get beyond what's comfortable in order to discover what's possible.

Maradyth McKenzie

Marketing Vice President

I was born in Jonesboro, but split my childhood years between Little Rock and Northeast AR. After graduating from Greene County Tech High in Paragould, I found my way back to Central Arkansas for college. I always missed Little Rock and knew I would end up calling it home once again.

Volunteering has always been a passion and the Junior League was a perfect way to give back to the community in many different ways, while also growing my social and professional networks. The talent, knowledge, and experience of JLLR members will never cease to amaze me. I have learned so much from the women I have had the privilege of meeting and getting to know, several of whom will be lifelong friends I am sure! Serving as the Nonprofit Center Chair was an amazing opportunity for me. I am so very proud of the resources our center provides these startup organizations and look forward to seeing how they grow and succeed as a result of that support.

I received Bachelor of Arts degrees in Business/Economics and Politics from Hendrix College in Conway and a Master of Business Administration degree from the University of Arkansas at Little Rock. After working for over a decade to strengthen local nonprofits through strategic planning, marketing, and development, I am now excited to focus on highlighting the impact JLLR has on the community through the hard work of its members.

My mother has always inspired me to be a person willing to daringly standup and meet challenges head on, without fear of failure. She demonstrates tremendous courage and doesn't back down from speaking out for her community or others, especially women and children.

Tabitha McNulty

Membership Vice President

I was born in Memphis, Tennessee and grew up, mostly, in West Memphis, Arkansas. As a child and young adult, I was an active member in my community who spent many hours volunteering. I joined the Junior League of Little Rock shortly after I had my first child and it was clear I was staying in Little Rock – permanently. I wanted to become a member so I could give back to my new community and make Little Rock my home. This is my seventh active year in the Junior League of Little Rock and while I've loved all my placements, I especially loved being a part of Community Focus. I enjoyed working directly with our community partners and getting to serve on Membership Council.

Before moving to Little Rock, I graduated from the University of Arkansas in Fayetteville with a bachelors of art in Political Science and Communications. I moved to Little Rock for law school and graduated from the William H. Bowen School of Law in 2005. I am an appellate attorney handling child welfare cases that concern the state's foster children. My grandparents were my inspiration. They both had such beautiful, altruistic souls and kind, gentle heart. Their smiles, love and support were a constant encouragement for me and they dared me to believe I could make a positive difference in the lives of others.>

Benecia Moore

Nominating Director

I was born in Seattle, Washington, but I was raised in Little Rock, Arkansas. I joined the Junior League of Little Rock during my first year in private law practice. One of the other associates in our office was joining because her mentor was a member – Nicole Williams. I was excited about meeting other women of action and getting involved in the community I'd been away from while I was in college and law school. I've been a member of JLLR now for 8 years, and I stay because there is still work to be done, and I'm having fun doing it! My favorite committees so far have been Nightingales and Be Wise, Immunize. I'm also a member of the Little Rock Chapter of The Links, Inc.

I have a B.S. degree in Public Relations from Boston University (May 2000), and a Juris Doctor degree from University of Pennsylvania Law School (2003). I am an Assistant United States Attorney for the Eastern District of Arkansas.

So many women inspire me and have helped shape me into the "daring" woman I am. All of the women in my life are college graduates – to include both grandmother, my mother, and my mother-in-law. I come from a long line of "daring," trail-blazing women.

Kimberly Logue

Training Director

I grew up in Longview, Texas. After bouncing around the country for a few years, I happily landed in Little Rock about seven years ago. I joined the Junior League of Little Rock to meet other women who were passionate about serving their community and to learn more about opportunities to give back in the city I now call home. I am constantly amazed by the dedication and passion of our members and their ability to sometimes get the impossible done. I truly believe that the Junior League is one of the best opportunities for women in Central Arkansas to gain leadership and other skills that empower them to make a difference in our community. This will be my sixth active year in the Junior League. I have had so many great experiences as a League member so far, but two of my favorite placements have been R&D and the first two years of Advocacy where I served with some incredible women and got to flex my creativity as we planned out new projects for the Junior League of Little Rock.

I have a biology degree from the University of Central Arkansas and a law degree and environmental certificate from Pace University School of Law in White Plains, New York. I am an attorney at PPGMR Law where I practice environmental law and represent clients in various trial and appellate courts.

Asked who inspires me, I have to point to the women who have come before me who have broken glass ceiling after glass ceiling and enabled those behind them to accomplish just a little bit more. From my great aunt who was the first female accountant in Mississippi, to my mom who wrote computer code on punch cards in the 1970's, to the power women that I have worked with professionally and in the Junior League, I have been fortunate to be surrounded by remarkable women who inspire me to be unafraid to push the envelope and to not place limits on what I think I am capable of accomplishing.

Jennifer Goss

Treasurer

I started my journey with the Junior League of Little Rock in 2010 with the intent to grow my professional and philanthropic skills, as well as develop new relationships with women in the League. I was born and raised in Little Rock and always enjoyed volunteering. After college, I wanted to look for opportunities to give back to the community. Through the last six years of being in the League, I have come to appreciate what the Junior League provides in support for Little Rock through our numerous projects and training. We are an amazing organization! I have served in Development, Community, and Finance aspects of the League during my time. My most memorable committee was Stuff the Bus, as I witnessed the direct impact of our fundraising efforts. This year, we have supplied over 3,400 students in the Little Rock School District with school supplies for the year.

My mom has challenged me to become a better leader, harder worker, and truer friend my entire life. Without her love, support, and sometimes a little extra push in the right direction, I wouldn't have become the daring woman I am today. I look forward to serving the Junior League of Little Rock and the community this year as Treasurer. I received my Bachelor's degree in Accounting and Master's degree in Business Administration at University of Central Arkansas.

Professionally, I work for Stephens Incorporated as an Accountant. I enjoy photography, house projects, and spending time with family and friends.

Natalie Hairston

Treasurer-Elect

I was born in Seoul, South Korea and adopted when I was three months old by a wonderful family in Little Rock, Arkansas; I have lived a great life here in Little Rock since. I have had the privilege to be a part of the Junior League of Little Rock since 2012. I joined the League because I wanted to make a difference in my community. I love that every year I have the option to pick where I would like to serve. My favorite committee so far has been Boosters and Big Rigs. I was so honored to be given the opportunity to Chair this impactful event this year.

In 2007, I graduated from the University of Arkansas in Little Rock with my Bachelors in Business Administration. Currently, I am a Vice President of Commercial Lending at Bank of the Ozarks and have enjoyed my 15 year career in banking thus far.

My husband and two sons inspire me daily to be daring. They make me explore new places, expand my comfort zone, and more than anything make me want to be better than I was the day before.