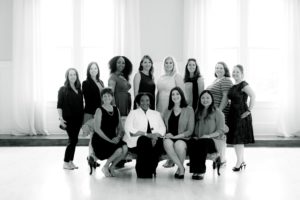 Front row, left to right: Wendy Saer, Sabrina Lewellen,Kimberly Logue Natalie  Hairston  Back row, left to right: Allison Drennon, Whitney Homan , Vontiffany Smith, Patty Optiz, Deanna Ray, Kristen Bextermueller, Maradyth McKenzie, Dana Coburn
---
President
Sabrina N. Lewellen
Previous Boards:
President-Elect
 Kimberly Logue
2016-2017
Sustainer Advisor
Wendy Saer
2015-2016
Administrative Vice President
 Dana Coburn
 2014-2015
Community Vice President
Whitney Homan
 2013-2014
Development Vice President
Maradyth McKenzie
Marketing Vice President
Patty Opitz
Membership Vice President
Deanna Ray
Nominating Director
Vontiffany Smith
Training Director
Allison Drennon
Treasurer
 Natalie Hairston
Treasurer-Elect
Kristen Bextermueller
---
Sabrina Lewellen

President

Over the last twelve years, my service in the Junior League has been the single most impactful part of my transition back into life as an Arkansan.  My father and mother, a minister and educator respectively, required each of us to be servant leaders driven to invest our best in our life calling and our surrounding community.  A native of Jonesboro, it has been a personal goal to learn as much as I can about the City of Little Rock and infuse myself into a helpful and contributory capacity for others.  I am deeply honored the Junior League has granted me the privilege of giving back alongside so many gifted and dedicated women.

Educationally, I hold a Bachelor of Science in Agriculture/Food Science/Minor – Environmental Science from Florida A&M University and a Doctor of Jurisprudence from Vanderbilt Law School.  Professionally, I serve the citizens of Arkansas as the Deputy Director and Assistant Secretary of the Arkansas Senate.  My tenure as a Provisional included Bargain Barn, Cookbook, Holiday House, and a project with the Women and Children First Center.  As a past Community and Membership Vice President and Chair of both Nightingales and Advocacy Committees, I have had leadership opportunities charged with addressing the unique needs of some of the most special constituencies we serve.  Additionally, I have fulfilled placements on APT, Placement and Nominating Committees.

Women Saying Yes is the epitome of all the Junior League of Little Rock has and will continue to stand for.   When a woman decides to commit to a mission, she has decided to give her passion through her life energy and time.  She is devoted to making a difference and leaving her fingerprint – her signature and most unique part of herself.  Everything that is our League is a result of over 95 years of the individual and collective "YES" of generations of actives and sustainers who have loved and cared for and through The Junior League of Little Rock.  They said yes, and I am proudly saying yes as well.

 

Kimberly Logue

President-Elect

When I relocated to Arkansas (for the second time) in 2009, I was encouraged by a colleague to join the JLLR as a great way to connect with other smart, passionate, civic-minded women.  I grew up in Longview, Texas, but spent my late teen and early adult years trying out several different parts of the country.  After finishing high school in Batesville, I attended the University of Central Arkansas in Conway and then earned my law degree at Pace University School of Law in New York.  Two years working in the Houston area and several hurricane evacuations later, I decided moving inland might be a smart idea and returned to Central Arkansas which had always held a special place in my heart.  I am now in private practice at PPGMR Law in Little Rock where I focus on environmental and appellate law.  Joining the JLLR has truly been one of the best decisions I made upon returning to Arkansas eight years ago.  By saying "yes" to the many challenges that have come my way as a JLLR member, I have grown grow in ways that I never anticipated – all while contributing to the organization's long history of making a meaningful impact in the Little Rock community.  I have planned mentorship opportunities for teen girls through the GROW program, contributed to expanding the JLLR's advocacy efforts, helped to develop impactful community projects on Research and Development, and provided leadership and other development opportunities for our members as Training Director.  As an organization of "Women Saying Yes", I love that the JLLR continually challenges both me and our membership to develop skills that we might not have acquired in our professional lives and take on leadership roles that stretch our abilities.  And we get to do it all while contributing to the betterment of our community with the support of female mentors and teammates who end up becoming lifelong friends.

 

Natalie Hairston

Treasurer

I was born in Seoul, South Korea and adopted when I was three months old by a wonderful family in Little Rock, Arkansas; I have lived a great life here in Little Rock since. I have had the privilege to be a part of the Junior League of Little Rock since 2012. I joined the League because I wanted to make a difference in my community. I love that every year I have the option to pick where I would like to serve. My favorite committee so far has been Boosters and Big Rigs.

In 2007, I graduated from the University of Arkansas in Little Rock with my Bachelors in Business Administration. Currently, I am a Vice President of Commercial Lending at Bank of the Ozarks and have enjoyed my 16 year career in banking thus far.

I am very thankful for the women that came before us and their dedication to saying yes to projects that have made the Junior League of Little Rock so impactful in our community.

 

Dana Coburn

Administrative Vice President

I was born in Orange, California and have lived in many places, including Louisiana, Venezuela, and New Jersey.  But, I consider Arkansas my 'home' after being here 27 years!  I joined the Junior League of Little Rock in 2009 because I wanted to be better involved in my community and get to know other like-minded, motivated women.  The Junior League is truly an organization that is committed to 'developing the potential of women'—during my time in the League, I've learned how to effectively run meetings, take notes, balance budgets by line items, set HAVC system controls, learn about historic building renovations (and all the coordination that comes with a renovation!), address building security issues, and love a building that is our home, but requires a lot of attention and TLC!

I graduated from Lyon College in Batesville, Arkansas in 1999 with a B.S. in Biology and have worked for the U.S. Army Corps of Engineers, Little Rock District since 2000.  I've held numerous positions with the Corps, but am currently a Project Manager in the Programs and Project Management Division, Civil Works Branch.  I've completed several leadership development classes and programs with Corps that I believe have only helped me professionally and in my time with the Junior League.

"A comfort zone is a beautiful place, but nothing ever grows there."—Author Unknown.

To me, I am always doing things outside my comfort zone, either by choice or being 'voluntold'.  Saying yes to different placements in the Junior League, and now being a part of the 2017-2018 Board of Directors, has pushed me out of my comfort zone, but I've also grown so much in 8 years.

I can't imagine a life without this growth and I am grateful for the opportunity, while a bit uncomfortable at times, to continue to serve, learn, grow, and share the experience with others.

 

 

Whitney Homan

Community Vice President

Growing up in Little Rock, I was always aware of the Junior League of Little Rock and the presence it has within the city, but I was never quite sure how I would "fit in" to the organization.  I took a leap of faith in 2013 and have not regretted my decision for one minute.  I realized quickly there is no "fitting in" to JLLR, because each woman is so different and wonderful in their own way.  There is a place for everyone and every talent and gift you may bring to the table.  I have always thrived on female friendships and surrounding myself with strong women.  After all, iron sharpens iron.  I initially joined the Junior League of Little Rock to meet other like-minded women and to find ways to volunteer in our community.  This will be my fourth active year and I am excited to serve our community and our League in this new capacity as Community Vice President. My previous placements have included Kota Camp Chair-Elect, two years as Kota Camp Chair and one of those years I was double placed as Children's Event Coordinator-Elect.

"Women Saying Yes" is a perfect theme for my first year sitting on the Board.  I have always been a "Say YES, ask questions later" type of person. I n my personal experience, saying YES to the Junior League has always led to personal growth, new friendships, and amazing memories.  Saying YES is a leap of faith in itself.  It is not only agreeing to step up and fulfill what is expected of you, but it is also agreeing to be present, engaged, and open to new experiences and life lessons.  Saying YES can be scary or intimidating, but when you realize that you are saying YES to something that ultimately will positively impact our community, you can't go wrong!  Professionally, I am a Doctor of Audiology at the VA Hospital in North Little Rock. I am also the student program supervisor for the VA Audiology clinics in Central Arkansas.  I graduated with a degree in Speech Pathology from Ouachita Baptist University and graduated with my Doctorate in Audiology from UALR/UAMS in 2009.

Maradyth McKenzie

Development Vice President

Volunteering has always been a passion for me and the more I volunteered for various organizations, the more JLLR members I met and I continued to be impressed by their professionalism.  Junior League was a perfect way to give back to the community in many different ways, while also growing my social and professional networks.  The talent, knowledge, and experience of JLLR members will never cease to amaze me.  I have learned so much from the women I have had the privilege of meeting and getting to know, several of whom will be lifelong friends I am sure!

I was born in Jonesboro, but split my childhood years between Little Rock and Northeast Arkansas.  After graduating from Greene County Tech High in Paragould, I found my way back to Central Arkansas for college.  I received Bachelor of Arts degrees in Business/Economics and Politics from Hendrix College in Conway and a Master of Business Administration degree from the University of Arkansas at Little Rock.  After working for over a decade to strengthen local nonprofits through strategic planning, marketing, and development, I hope to increase the financial capacity of our organization and further its impact on the community by encouraging members to fully commit to any and all of the challenges and opportunities we face when we say yes to a placement in the Junior League.

 

Patty Opitz

Marketing Vice President

Not knowing what to anticipate is one of my greatest fears, however I've learned that when I say yes, I am opening doors to new possibilities that I never knew existed. Saying yes has given me a courage and conviction in myself to find out who I am and what I really want to do.  My experience with the Junior League of Little Rock has definitely helped to broaden my view on volunteerism to help me fully see the intrinsic value that it has.  By saying yes to the many opportunities JLLR offers women, it has opened more doors for me, and shown me what I am capable of doing.  I joined the League as a way to break out of my architecture "bubble," and meet others who I necessary wouldn't have the opportunity to. I needed a way to contribute to my community, and be held accountable for it.

Throughout the past 7 years I have been a member, the Junior League has given me all of these opportunities. That is what I love about the League—other women seeing the potential in others, and extending that opportunity to them. JLLR did that for me, and I had to take a chance and learn to say yes.  Saying yes has shown me I can do more, experience more, live more, create more…. The list goes on.  Saying yes can lead to endless opportunities that you never knew existed.

Professionally, I am a Senior Associate Architect at Polk Stanley Wilcox Architects, and sit on the AIA Arkansas State Board as Director and on the Women in Architecture and Diversity committee for the state.  I am also Director of the Architecture + Design Network and in my free time, love to spend it with husband and spunky 4 year old, Malin.

 

Deanna Ray

Membership Vice President

I joined the JLLR in 2010 in an effort to reconnect with my community and meet other women in the Little Rock community.  While I was born and raised in Little Rock, I left to attend college at Baylor University.  I came back to Little Rock for law school, but after graduating, many of the friends I made during law school left the city or state to pursue career opportunities.  In many ways, I felt like the place I had always known as home was a new and lonely city.  I also knew that Little Rock was where I would be for the foreseeable future, so I wanted to be able to re-engage in my hometown and begin investing in my community.  Throughout high school and college, I spent many hours volunteering and serving my community.  Due to time constraints, I had not found a way to work that community service in during law school.  Around this time, I began seeing friends who had moved to other areas post about joining their local Leagues, so I decided to look into the JLLR.  The JLLR fit what I was looking for:  it provided me with an opportunity to give back, meet new friends, be engaged in my community and be trained to be a civic leader.  Now, seven years later, I am thrilled to be able to serve this organization that I love as the Membership Vice President.  This year's theme of Women Saying Yes, to me, means being willing to say yes, even when saying yes may be hard or uncomfortable.  It means saying yes in order to grow, learn and lead to the best of my ability.

During my time in the League, I have served in various roles, and I have had the privilege to serve on different committees and councils including Nightingales, Research & Development, Development, Growth & Enrichment, Knowledge Transfer and Placement.  Looking back, each of those placements has helped develop and shape me as a person.  It is hard to pick a favorite role because each role was so different and challenging in its own way.

Professionally, I am an environmental attorney, and I serve as the Associate General Counsel for the Arkansas Natural Resources Commission.  I have an undergraduate degree in Environmental Studies and History from Baylor University and a J.D. from UALR Bowen School of Law.  I am deeply involved in national initiatives and conferences with the American Bar Association and locally with the Arkansas Bar Association.  Outside of work and the JLLR, I also serve as an Advisory Board member for Pulaski County Youth Services and as a Board member for Audubon Arkansas.  My very favorite way to spend time, though, is with my ever supportive and encouraging family.

 

Vontiffany Smith

Nominating Director

As a native of Little Rock, I have been affiliated with many community and service based organizations.  Most of them were representative of my own culture, religion, and ethnicity.  I joined the Junior League of Little Rock (JLLR) in 2009 to experience a more diverse opportunity of giving back to the community my time & talent.  I truly believe in empowering and uplifting women and serving as a change agent of the development of our community.  As a member of JLLR I have had the rewarding opportunity to serve as a mentor of young parents though community collaborations with Centers for Youth & Family Services, I have lead committees as a Chairperson offering leadership and guidance to members, I have served as the Training Director in efforts to develop the professional potentials of our members, I have had the honor and privilege to mentor new members of our organization, offering support, guidance, and sisterhood during their first year of membership, and currently I have the esteemed honor to serve on the Executive Board of Directors for JLLR as the Nominating Director.

Professionally, I am an Organizational Development Trainer for Arkansas Children's Hospital (ACH).  I have been a part of the ACH Family for 6 years.  I received my B.A. in Psychology from Philander Smith College, and a M.A. in Human Resource Management from Walden University.  When Women Say YES….to me it means this: One has an understanding of her calling as a leader, to accept her responsibility to her community, to challenge herself to continue to develop and grow, and to stay committed to the obligation of WHY she said YES!!!

Allison Drennon

Training Director

After graduating from the University of Arkansas in Fayetteville and moving to Little Rock, I found myself wanting to make an impact in my community, in my family and in my profession.  I joined the Junior League of Little Rock in 2011 desiring to meet those goals.  Beginning as a cookbook marketing manager, my JLLR career has included two placements as social media manager, a year on the Board of Directors as Marketing Vice President and, most recently, Training Director-Elect.

I have also served on two marketing task forces.

The Junior League of Little Rock has inspired me and taught me to say yes.  I say yes to challenges.  I say yes to new ideas.  I say yes to learning and growing.  My yes is not limited to JLLR – it includes my family and my profession too.

 

Wendy Saer

Sustainer Advisor to the Board

Wendy is a New Orleans native, wife of Dr. Ted Saer, mother to 6 and grandmother to 11.  She retired as a Dental Hygienist when her family moved to Little Rock in 1981 and then she became very active in the community as a Girl Scout leader, PTO president, hospital volunteer, and foundation board member to several nonprofit organizations.  She developed a love of event planning and fund raising after her biggest JLLR placement of Chairing Riverfest in 1991.  She chaired it again in 2002 for the 25th anniversary, and also chaired the Race for the Cure, and was the co-chair for the CHI St Vincent inaugural IV Party.  She was named JLLR Sustainer of the Year in 2015.  Wendy is known as "Mayor Saer" to thousands of children (and adults) who have graduated from Safety Town, a safety awareness program she brought to Little Rock over 32 years ago.  She said Yes to the Junior League in 1986 and it changed the direction of her life.  YES is a small word that can do BIG things.  Imagine the possibilities of hundreds of woman in the JLLR saying YES.  We could literally change our world

Kristen Bextermueller

Treasurer-Elect

Born and raised in Central Arkansas, I've long regarded the Junior League of Little Rock as an effective, compassionate, and impactful organization.  It is undoubtedly easy for me to say "yes" to such an organization.  I've enjoyed five years of service with JLLR through various placements on the Holiday House Committee.  As my sixth active year approached, I knew it was the right time to say yes to serve on the 2017/2018 JLLR Board of Directors.  The best experiences in my life have resulted from taking that leap of faith, even when it seemed daunting.  I am honored to be a part of JLLR's legacy and as Treasurer-Elect, I hope to continue to develop financial literacy and transparency throughout our organization.  I fully intend to draw upon skills and career experiences to maintain the proper accounting for our finances and to strengthen financial reporting and budgeting where necessary.

Professionally, I've worked in Corporate Finance with Bank of the Ozarks for 10 years, where I serve on the ALCO & Investments Committee as well as the Enterprise Stress Testing Advisory Council.  I'm the Asset/Liability Modeling Manager, thus, I primarily measure, model, and monitor the Bank's interest rate risk exposure and capital volatility.  Essentially, I crunch a LOT of numbers!  I earned a B.S.B.A. in Financial Management/Investments from the University of Arkansas Fayetteville in 2005 and a M.B.A. from the University of Arkansas Little Rock in 2006.  I say yes to every opportunity to be outdoors in our beautiful "Natural State."  I'm a patron of the arts, self-proclaimed travel planner, amateur photographer and I cherish time spent with family and friends.