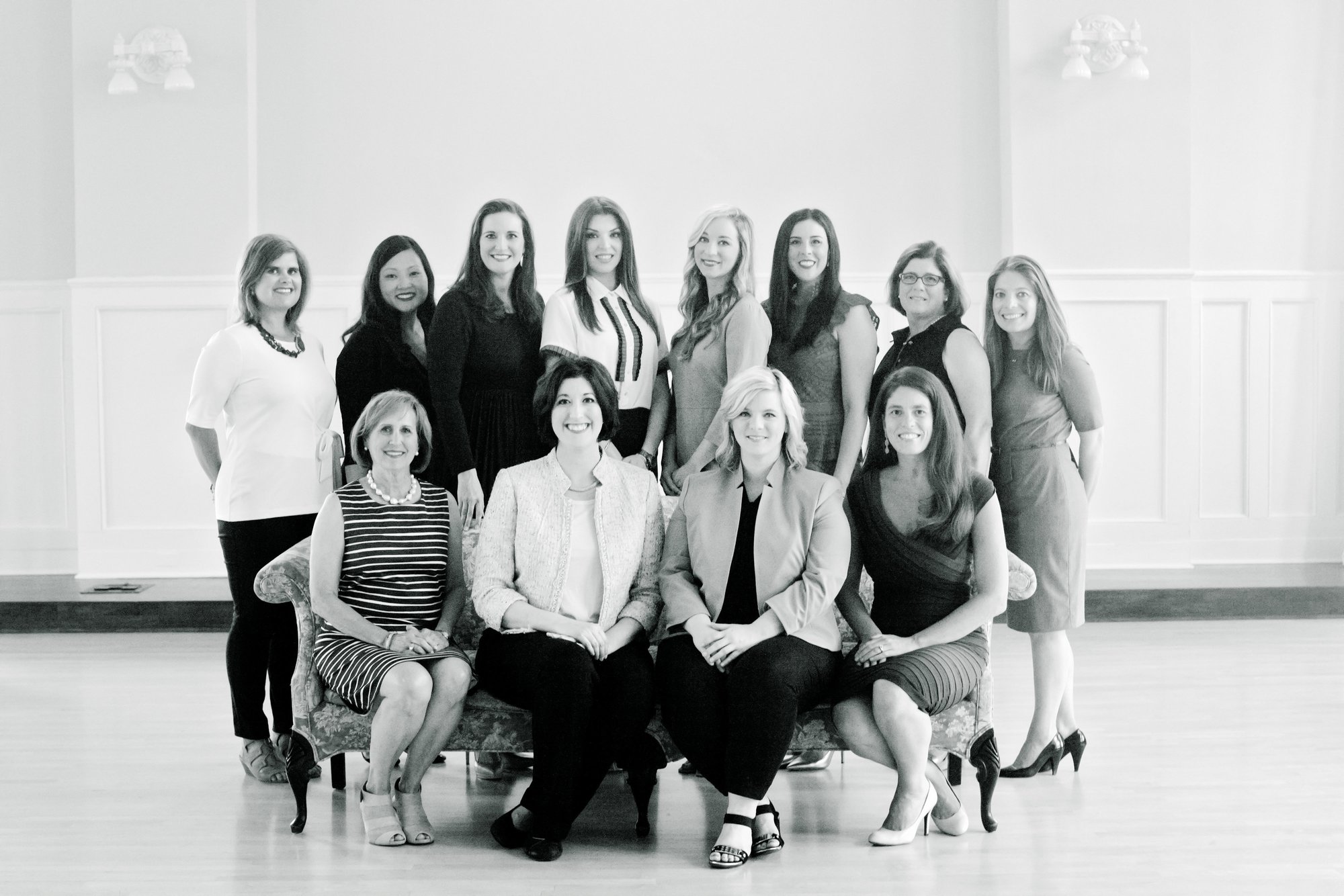 Front row, left to right: Vickey Metrailer, Kimberly Logue, Jennifer Goss, Kristen Bextermueller  Back row, left to right: Tabitha McNulty, Natalie Hairston, Casey Rockwell, Leigh Ann Kreps, Corey Gilmore, Danielle Collie, Betsey Mowery, Candace Anderson
---
President
Kimberly Logue
Previous Boards:
President-Elect
 Jennifer Goss
2017-2018
Sustainer Advisor
Vickey Metrailer
2016-2017
Administrative Vice President
Betsey Mowery
2015-2016
Community Vice President
Candace Anderson
2014-2015
Development Vice President
Natalie Hairston
2013-2014
Marketing Vice President
Corey Huffty
Membership Vice President
Danielle Collie
Nominating Director
Tabitha McNulty
Training Director
Casey Rockwell
Treasurer
Kristen Bextermueller
Treasurer-Elect
Leigh Anne Kreps
---
Kim Logue

President

In 2009, just a few months after moving from her home state of Texas to Little Rock, Kim Logue was encouraged by a colleague to join the Junior League of Little Rock as a great way to learn about the community through giving back and as an opportunity to connect with other smart, passionate, civic-minded women.  Taking that first step into community leadership and service in Central Arkansas has truly been one of the most rewarding and impactful decisions of Kim's adult life.  She sees every day how the JLLR significantly improves the lives of women and children in the community. Kim is grateful for an organization that is so committed to serving others and appreciates the challenge she and all League members have to develop leadership skills and take on roles that stretch abilities.

Kim attended the University of Central Arkansas in Conway and then earned her law degree at Pace University School of Law in New York.  Professionally, she is now in private practice at PPGMR Law where she focuses on environmental and appellate law and general civil litigation.  Through her JLLR membership, Kim has had the opportunity to serve in a number of capacities including GROW, Advocacy, Research & Development (R&D) Chair, Training Director, and several task forces and special committees.

Kim feels it has been a privilege and an honor to be able to serve the JLLR this year as President.  As the League focuses on the upcoming months on how members can each "Aspire to Lead, Inspire to Serve", it is Kim's hope and goal to continue JLLR's long legacy of developing and encouraging future community visionaries and change-makers.

 

Jennifer Goss

President-Elect

For Jennifer Goss, membership in the Junior League of Little Rock is more than just volunteering and making friends- it is a chance to grow your leadership skills and work with like-minded women to serve the community and our membership. Her 8 years of service have been nothing short of amazing- from leadership training to serving children of Little Rock to working with women who teach her something new every day- the interpersonal and professional skills Jennifer has developed would not have been possible without JLLR.

Born and raised in Little Rock, volunteering in the community has always been a priority of Jennifer's. She has served as Treasurer, Little Readers Rock Chair, Financial Planning Chair, and ANMT Committee Member. Her most memorable committee was Little Readers Rock, she and her committee members worked to improve the League's impact on the community and were able to distribute over 5,700 books during the 2017-2018 League year.

Jennifer received her Bachelor's degree in Accounting and Master's degree in Business Administration at University of Central Arkansas. Professionally, she works for UA Little Rock Public Radio as the Finance Director.

 

Kristen Bextermueller

Treasurer

Born and raised in Central Arkansas, Kristen long regarded the Junior League of Little Rock as an impactful and inspirational organization.  She's valued six active years of service with JLLR through various placements on the Holiday House Committee and most recently as the 2017/2018 Treasurer-Elect.  Serving on the Board of Directors has offered tremendous opportunities for personal growth and has provided Kristen an avenue to continue improving her leadership experiences.  Kristen is honored to be a part of JLLR's legacy and as Treasurer, she hopes to continue to develop financial literacy and transparency throughout the organization.  She fully intends to draw upon skills and career experiences to maintain the proper accounting for the League's finances and to strengthen financial reporting and budgeting where necessary.

Professionally, Kristen worked in Corporate Finance with Bank of the Ozarks for 11 years, where she serves on the ALCO & Investments Committee as well as the Enterprise Stress Testing Advisory Council.  She's the Asset/Liability Modeling Manager, thus, she primarily measures, models, and monitors the Bank's interest rate risk exposure and capital volatility.  Essentially, she crunches a LOT of numbers!  Kristen earned a B.S.B.A. in Financial Management/Investments from the University of Arkansas Fayetteville in 2005 and a M.B.A. from the University of Arkansas Little Rock in 2006.

Kristen says 'yes' to every opportunity to be outdoors in the beautiful "Natural State."  She's a patron of the arts, self-proclaimed travel planner, amateur photographer and she cherishes time spent with family and friends.

 

Betsey Mowery

Administrative Vice President

Little Rock is Betsey's hometown. It's where she and her husband got married, their children were born, and where their children grew up. Those are meaningful life events for any family; being part of the JLLR – an organization of women — has been deeply meaningful for Betsey as an individual and as a woman. When she was little, many of her friends' mothers (and neighbors) were in the JLLR. They volunteered at Riverfest, in the Little Rock Schools, at the Arkansas Arts Center and the Territorial Restoration. Betsey looked up to those women, and hoped that someday she might be able to join the JLLR.

Years later, Betsey was thrilled when a friend and coworker offered to sponsor her. She completed the provisional training course in 1995-1996 and have been an Active ever since. Not only did she want to be part of such a great organization, she wanted to learn and grow, volunteer in the community, and make new friends. That's exactly what happened!

In the past 22 years, Betsey has completed Community, Ways & Means and In-League placements. Her favorites have been the most challenging; they exercised muscles she didn't know she had. Those were also the ones where she felt valued, appreciated, and as though her contributions were both wanted and needed. That's exactly how she'd like the women who serve on this year's Administrative Council to feel: valued, appreciated, and that their contributions are wanted and needed. Betsey can't wait to see what they accomplish together!

 

Candace Anderson

Community Vice President

Growing up, Candace's grandmother always had a copy of Little Rock Cooks, a fundraising cookbook first sold by the Junior League of Little Rock in the 1970s, in her kitchen bookshelf.  This was all Candace knew about Junior League of Little Rock until she moved to Little Rock in 2008.  A well-rounded Southerner, Candace was born in Searcy, Arkansas, attended middle school and high school in Asheboro, North Carolina, home of the North Carolina Zoological Park. She finished her senior year as a Chickasaw in Blytheville, Arkansas.  Following high school, Candace attended Mississippi State University, where she obtained a bachelor of arts degree in history, and then attended the University of Arkansas School of Law.  A year after finishing law school, Candace accepted a position as an attorney with the Social Security Administration Office of Hearings Operations in Little Rock. She joined the Junior League of Little Rock in 2009 as a way to meet people and become involved in the community.

In her nine years as an Active member of the Junior League of Little Rock, Candace has had the opportunity to volunteer on many of the organizations' community projects. She served as chair of Nightingales which provides meals and activity nights for caretakers at Arkansas Children's Hospital and residents of the Family Home, as well as the chair of the Nonprofit Board Institute, which organizes training opportunities for nonprofit volunteers and board members.  Candace loved working on both of these committees, which place members face-to-face with the central Arkansas community, and allows them to experience the Junior League's impact on those the organization strives to serve.

This year Candace is excited to serve as Community Vice President.  In this role, she both "aspires to lead, and inspires to serve" alongside the many talented women who are chairing the Junior League's nine community projects.  Whether it is providing all necessary school supplies for the students at six Little Rock elementary schools, playing bingo with caretakers at Arkansas Children's Hospital, dropping off nutritious snacks at the Family Home for tired multiple myeloma patients, kickboxing with students at P.A.R.K., learning how to be an effective board member with nonprofit leaders from across central Arkansas, providing affordable downtown office space for small nonprofit groups, fishing at Camp Aldersgate with summer campers at KOTA camp, partnering with CALS to host a children's reading day and pass out 100s of free books, or keeping our membership informed on issues affecting the city, the members of the Junior League of Little Rock are dedicating hundreds of service hours to improving our community.  United, the women of the Junior League of Little Rock make change happen.  Candace is honored to have a front row seat to participate in every project the League funds and witness the impact trained volunteers have on Little Rock.

Natalie Hairston

Development Vice President

Natalie Hairston was born in Seoul, South Korea and adopted when she was three months old by a wonderful family in Little Rock, Arkansas and feels she's lived a great life since then.  She is privileged to have been a member of the Junior League of Little Rock since 2012. Natalie joined the League because she wanted to make a difference in the community. She loves that every year she has the option to pick where she would like to serve and is thankful for the valuable training she's received in every placement for which she has served.

In 2007, Natalie graduated from the University of Arkansas in Little Rock with her Bachelors in Business Administration. She is currently a Vice President of Commercial Lending at Bank of the Ozarks and has enjoyed her 17-year career in banking thus far. When not working or volunteering Natalie enjoys spending time with her husband and two children.

Natalie is very thankful for the women that preceded current League members and applauds their dedication to projects that have made the Junior League of Little Rock so impactful in the community.

 

Corey Huffty

Marketing Vice President

Corey Hufty feels using her time and energy to improve her 'little corner of the world' is something for which she holds herself personally responsible and she also believes being a member of the Junior League of Little Rock helps her accomplish that. For her, the best part about membership in the Junior League is that she's constantly inspired by civic-minded, hardworking women who share the common goal of making a difference.

Corey has acquired many new skills through the art of learning by doing, and that's comes much more easily with the support of smart and talented women in the League. Her six-year membership in the League continues to help Corey grow personally, professionally, and as volunteer. She had the opportunity to serve on various committees, councils, and task forces such as chair of Admissions and New Member Training, Finance Council Member At-Large, and member of the Centennial Task Force.

Service to the community is important to Corey and as such she is involved as board member of the Hillcrest Residents Association, ACANSA Arts and Culture Festival Audience Experience Chair, Arts and Culture Commissioner for the City of Little Rock, and Harvestfest Committee member.

Professionally, Corey is the Development Director of Annual Gifts at Arkansas Hospice Foundation, a local nonprofit organization. She holds a Master's degree in Public Administration and a double major in Political Science and Mass Communications.

The Junior League of Little Rock, over many decades, has established a rich history of building a better community, and Corey feels it is an honor to help continue this legacy for many years to come.

 

Danielle Collie

Membership Vice President

Danielle Collie was born in Little Rock and graduated from Little Rock Central High School. After graduating from the University of Arkansas at Fayetteville, Danielle moved back to Little Rock to be closer to friends and family and expand her career. After getting settled, she set out to join the Junior League of Little Rock.

Growing up in the community, Danielle was well aware of all the amazing work the League had accomplished and wanted to be a part of such a strong organization with women whom she greatly admired. Since joining, Danielle's not only given back to the community that has given so much to her, but has made some of the dearest friendships that will be with her for a lifetime. She's been a member of the Junior League of Little Rock for 6 years, and her favorite committee so far has been Recruitment. Danielle considers herself to be an extrovert and Recruitment allowed her the ability to interact with many dynamic women who were interested in joining JLLR.

Danielle is an Account Executive at Delta Dental and is charged with handling a segment of new group sales across the state of Arkansas. She feels Delta Dental is a great organization that is very supportive of an employee's involvement within the community, for which she is very thankful. Danielle knows that her service as Membership Vice President for the 2018-2019 year will be a busy but exciting time. She recognizes the board is extremely invested in member's experiences and satisfaction, and she can't wait for the energy and life that will be infused into League in the coming year.

 

Tabitha McNulty

Nominating Director

Tabitha McNulty was born in Memphis, TN and raised in the delta for her entire childhood. She graduated from Marion High School and then, with one other person from her high school, moved to Fayetteville for college. Tabitha majored in political science and communications and upon graduation she attended law school at the William H. Bowen School of Law in Little Rock.

Professionally, Tabitha is an attorney specializing in child welfare appeals. She chose membership in JLLR because, growing up she always had a strong sense of community and was constantly volunteering. Following the birth of her first child, she still did not feel a real "ownership" in the community and decided she wanted to get more involved to help cement Little Rock as home.

Tabitha is currently in her ninth Active year and recounts Buckle and Be Safe as her first placement. As a new mom, she feels it was the most eye opening placement ever.  In addition to service on the Nominating committee Tabitha has also served on 6K Café, Community Focus, The League Cares (TLC), and the board as the Membership Vice President

Tabitha has really enjoyed them all of her placements over the years, but if she had to pick the best so far she considers Community Focus best and all of its connections with community partners. She loves the JLLR's commitment to community service through its community projects and all of the dedicated members who either through ways and means or in-League placements (and everything in between) work towards the success of our community projects!  She's also proud of all the League's legacy projects!!

Tabitha's advice to a woman considering membership in JLLR is to try lots of new placements and step outside of your comfort zone to try things you may not ever get an opportunity to do again! JLLR is a place to grow and learn while giving back!!

Casey Rockwell

Training Director

Dr. Casey Rockwell grew up in Searcy, Arkansas and later Lake City, Florida. She holds a Juris Doctorate and Doctorate in Educational Administration and Supervision from The University of Arkansas at Little Rock, as well as a Masters in Public Service from The University of Arkansas Clinton School of Public Service. She currently serves as an Assistant Professor at The University of Arkansas at Little Rock specializing in Business Law.

Casey has always had a strong desire to serve her community having previously volunteered with the Arkansas Bar Association, Arkansas Association of Women Lawyers, and serving as a tutor to underprivileged students within the Little Rock School District. Casey joined the Junior League of Little Rock as a way to further that passion. Casey says, "The best parts of the League are the friends you make while making a meaningful difference within our community".

Within the League, Casey has served on the Training committee, the Nonprofit Board Institute, and the Annual fund. This year, Casey is excited to tie in her new role as Training Director. In this position, Casey hopes to work with members to create purposeful learning opportunities that educate all about the mission of the League and provide for member's growth and development.

 

Vickey Metrailer

Sustainer Advisor to the Board

North Little Rock is Vickey Metrailer's hometown.  She's a 1969 graduate of Mount St. Mary Academy.  Upon obtaining her degree in Medical Technology from UALR, she worked in clinical microbiology and hematology for an oncologist.  When her fourth child was in preschool, Vickey entered home management, full time.  She and her husband, Jim now have eight grandchildren and according to Vickey, life is fun and full.  Vickey joined the League in 1986 and was trained well, motivated to serve and given both confidence and opportunity to lead.

The League placement she's proudest of is Potluck.  Working with a community advisory board, she and her committee members took the idea of a food recovery program and made it a reality.  Potluck now collects literally tons of food each year that feeds thousands of children, women and men. She loved Riverfest placements and in 1996 chaired the festival when the League transitioned it 100% to the community.  As well as being active in Our Lady of Holy Souls Church and her children's schools, Vickey volunteered for over a decade for Susan G. Komen Arkansas, serving in multiple capacities. She counts it a true honor to receive the Hickingbotham Award from Komen in 2008. She also feels that sometimes leadership and service come in unexpected places. For over 10 years, Vickey both lead and served her mother and her three, unmarried sisters through their battles with dementia and heart disease.  The confidence and skills she gained from community work equipped her with what she needed to be a strong and effective advocate for those vulnerable women. Always…always… Aspire to Lead…Inspire to Serve!

Leigh Anne Kreps

Treasurer-Elect

Growing up in Little Rock, Leigh Anne was exposed to a variety of nonprofit organizations. She enjoyed learning about each of them with their different missions and impacts they had on the community.  Upon moving back to Little Rock after graduating from the U of A, Leigh Anne knew that she wanted to become involved with community service.  After volunteering for a shift at Riverfest, she was encouraged by her father to join the committee after expressing how much she enjoyed it.  Leigh Anne's father served as Riverfest Board Chair a few years prior and her family has been involved with Riverfest since she was a child.  Following encouragement from fellow Riverfest committee members, Leigh Anne joined JLLR in 2013 and currently serves as Treasurer-Elect.

Professionally, Leigh Anne is the Operations Director for the Cornerstone Pharmacy(s) group and The Hounds' Hideaway.  She has a B.S.B.A. with a minor in Real Estate Finance from University of Arkansas and a M.B.A. from University of Arkansas at Little Rock.  Leigh Anne's previous placements include Little Readers Rock, Downtown Dash and Holiday House.  Although she's had the same position (Business Manager/Elect) with each placement, Leigh Anne has had different reflections and experiences from each.  She's in awe by the time and energy her fellow committee members give to each projects and knows that passion helps drive her passion to serve. She honestly feels that the 2018-2019 League year will be her favorite because her co-board members have already inspired her.  The opportunity to help the city, serve with women she admires and receive training that will continue to help her grow professionally, is an amazing gift.  Leigh Anne hopes to give back by ensuring the role of Treasurer-Elect and other financial-based placements in the League become more efficient.

Leigh Anne loves spending time with her husband, family, friends that have become family and most importantly her sweet baby girl, Harper.