Community Impact > Stuff the Bus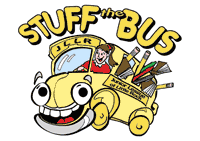 Many children look forward to arriving on the first day of school with new notebooks, backpacks, and pencil boxes, but it's a different story for children whose families can not afford these items. To meet this community need, JLLR implemented project called "Stuff the Bus" (STB).
What is Stuff the Bus (STB)?
STB is a program focused on providing basic school supplies to those children in the Little Rock School District (LRSD) who are "most in need" to assist them with their studies and help build self-esteem.
Each August, thousands of Little Rock School District children start the school year without the necessary supplies to succeed academically. JLLR wants to enable these children to receive the best education possible by giving them the necessary resources to succeed. The Junior League of Little Rock is committed to improving the learning experience for the children in the Little Rock School District (LRSD).
How will STB work?
STB worked with the LRSD to identify schools with a high percentage of students who are "most in need" and would benefit from this program.  Beginning with one school and adding a school each subsequent year, STB now serves seven elementary schools within the LRSD:  Watson, Geyer Springs, Baseline, Chicot, Stephens, Romine and Meadowcliff and now assists over 3000 elementary age students.  The STB committee works diligently through the summer to collect, assemble and distribute the supplies to the shcools before their first day of classes.
When did the program begin?
STB was launched in the spring of 2006 providing basic back-to-school items (pencils, crayons, notebook paper etc.) for 518 students at Watson Elementary.  The JLLR has supported projects and programs benefiting LRSD students and families since 1947.
Where does the money and supplies come from?
For the pilot year, STB was funded by the JLLR through our Ways and Means activities.  We were able to raise money through programs like Bargain Boutique, 6th K Cafe and Holiday House.  Since its inception, STB has received funding for school supplies from Wal-Mart, Bank of America & 3M.  We have also received in-kind donations from Windstream, Regional Reycling and Holy Souls Catholic School.
What are the goals associated with STB?
The LRSD has approximately 6,000 students in the elementary level grades who qualify for the STB program. In the future, STB hopes to expand the program through community support, grants, corporate supply partners, and corporate program partners (financial support). With the proper support from the community, this could be the largest project the JLLR has in numbers of people reached each year.
Click here to watch the Stuff the Bus video.