At Home Date Night with Petit and Keet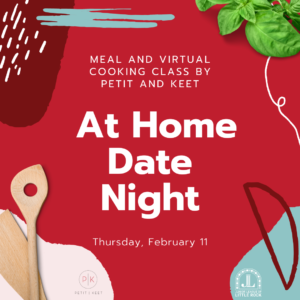 Mark your calendars for February 11, 2021 for a meal and virtual cooking class with Petit and Keet! Tickets will go on sale Saturday, January 23 and last through Monday, February 8. There will be optional pick-up places at both Petit and Keet and the Junior League of Little Rock building.
Petit and Keet has generously partnered with us for a Valentine's (or GALentines) at home date night. For $150 get the following menu and a virtual cooking class with the head chef at Petit and Keet. The wine add-on is $50 and comes with a nice bottle of both red and white.
Menu
First Course: Spinach Salad with crumbled fresh goat cheese, strawberries, thinly sliced red onion and fig balsamic vinaigrette
Second Course: Sous vide 6oz filet ( seared or grilled at home) with potato gnocchi, asparagus, topped with a Wye Mountain mushroom cream sauce
Dessert Course: Raspberry Cheesecake Swirl Brownies + Raspberry Cremeux + Chocolate Sauce
Optional Wine pairing: $50 add-on – Sommelier choice pairing of one white and one red bottle of wine