2019-2020 Members of the Year
2019-2020 Active Member of the Year – Lisa Shahim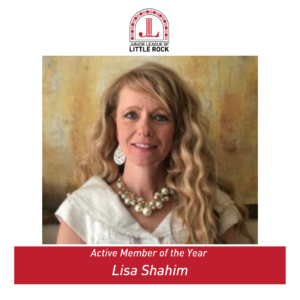 Lisa Shahim moved to Little Rock in 2001 and is entering her third year as a JLLR active member.  She was motivated to join JLLR because of her love of volunteerism and her desire to improve the community in which she lives. In Lisa's first year with JLLR she was double placed on Little Readers Rock and Arrangements. Last year Lisa served on Recruitment and as well as being the Chair of the Arrangements Committee.
When she isn't working hard for JLLR, Lisa is an avid hiker and is a self proclaimed Peloton addict. She also serves as a lead volunteer at Mamie's Poppy Plates. Lisa dedicates her Active Member of the Year award to the members and support staff of JLLR and quotes the late Nipsey Hussle in saying "If you look at the people in your circle and you don't get inspired, then you don't have a circle. You have a cage." She thanks the women of JLLR for being some of the most inspirational women she has ever met and hopes to pay it forward by serving also as an inspiration to those around her.
2019-2020 New Member of the Year – Beatrice Klokpah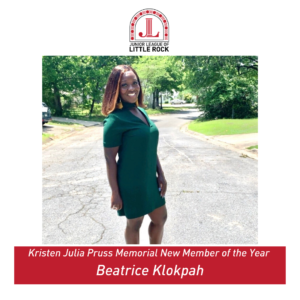 Beatrice Klokpah is a Houston, TX native who relocated to Little Rock in January 2018.  As a social worker and therapist, she has over 14 years of experience in community based work. As a Provisional member of the League, Beatrice has appreciated the opportunity to serve, grow, and experience Little Rock alongside her fellow new members.
As the daughter of a first generation Ghanaian immigrant father and African American mother who both overcame societal pressures, literacy and education are core principles that were instilled in Beatrice from a young age. She is looking forward to serving on Little Readers Rock in 2020 and hopefully, help children build a healthy perspective and foundation of literacy that will increase their chances of a promising adulthood.
2019-2020 Elizabeth 'Betsey' Mowery Member of the Year – Tabitha McNulty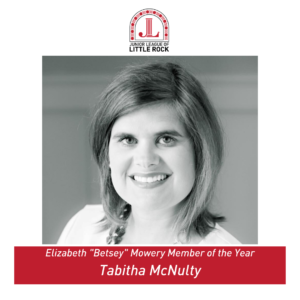 Tabitha McNulty moved to Little Rock in 2002 for law school and has been a member of JLLR for ten years.  Growing up, she always had a strong sense of community and was constantly volunteering.  Tabitha's first JLLR placement was Buckle and Be Safe and since then she has served in a number of positions as a member of JLLR including Boardwalk, the Centennial Celebration Committee and as Membership Vice President and Nominating Director.
In addition, Tabitha serves on the board of the Boys and Girls Clubs of Central Arkansas.  Upon receiving the Elizabeth "Betsey" Mowery Award, she notes, "I'm so thankful to JLLR for all the opportunities to serve!  I feel very undeserving to receive this honor, as the award's namesake is someone who I greatly admire and appreciate!"
2019-2020 Sustainer Member of the Year – Kim Evans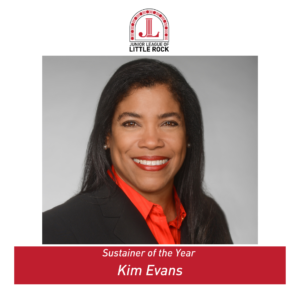 Kim Evans is a native of Little Rock and a graduate of Mount Saint Mary Academy, Georgetown University, and the William H. Bowen School of Law. Kim began her JLLR career in 1994 and served as President from 2003 to 2004. As a Sustainer, she has served on the Sustainer Board and on the Nominating and Strategic Planning Steering Committees of the Association of Junior Leagues International.
Professionally, Kim works as Senior Director of Corporate and Foundation Relations at the University of Arkansas for Medical Sciences (UAMS). She also serves on the boards of Southern Bancorp Bank, the Carl B. and Florence E. King Foundation and Hendrix College, where she is Vice Chair of the Investment Committee. Some of Kim's past volunteer commitments include serving on the board of the following organizations:  Centers for Youth and Families, e-STEM Public Charter Schools, CareLink, Arkansas Arts Center, Arkansas Repertory Theatre and more.