2019-2020 Active Member of the Year – Lisa Shahim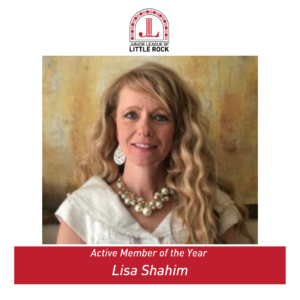 Lisa Shahim moved to Little Rock in 2001 and is entering her third year as a JLLR active member.  She was motivated to join JLLR because of her love of volunteerism and her desire to improve the community in which she lives. In Lisa's first year with JLLR she was double placed on Little Readers Rock and Arrangements. Last year Lisa served on Recruitment and as well as being the Chair of the Arrangements Committee.
When she isn't working hard for JLLR, Lisa is an avid hiker and is a self proclaimed Peloton addict. She also serves as a lead volunteer at Mamie's Poppy Plates. Lisa dedicates her Active Member of the Year award to the members and support staff of JLLR and quotes the late Nipsey Hussle in saying "If you look at the people in your circle and you don't get inspired, then you don't have a circle. You have a cage." She thanks the women of JLLR for being some of the most inspirational women she has ever met and hopes to pay it forward by serving also as an inspiration to those around her.